Ecology International is supporting demonstration and education projects in local communities that are focused on outlining and implementing practical solutions for a more sustainable world. Such projects are intended to raise public awareness and inspire peoples of all ages, cultural backgrounds, religious beliefs and political persuasions as to how to work together synergistically to regenerate damaged ecosystems at all levels, i.e. in our homes, neighborhoods, towns, cities, states, countries, continents and globally.

New fracking techniques for extracting oil and gas reservoirs in Canada have resulted in a large number of new fossil fuel sources being identified and developed for domestic use and export. This has resulted in a global surplus of both oil and gas that has driven prices for both to the lowest levels in a decade. Recent studies also show the fracking can cause localized pollution of water reservoirs, earth quakes, and excessive toxic greenhouse gas emissions. Meanwhile, renewable sources of energy from solar, wind and water are getting much cheaper and more efficient.

To minimize the long term effects of climate change on the planet's ecosystems including mankind, the importance of reducing global emissions and establishing stricter conservation measures has never been more important. The recent Paris Climate Change Summit late 2015 has finally gotten the world's attention to the seriousness of this issue and a majority of the World's countries are now doing the difficult work at home looking at all possibilities of their getting off fossil fuels in the very near future.

Following are brief descriptions of some of the first Ecology International projects undertaken in Canada in partnership with Peninsula EcoVision, a non-profit organization based in North Saanich, British Columbia, Canada:

1) Holding information meetings and showing films that illustrate the impacts of Climate Change and also provide examples of positive solutions to help mitigate the current and future impacts: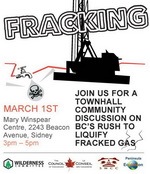 On March 1st 2014, Peninsula EcoVision co-hosted a Townhall Fracking Meeting "What's all the Fuss about Fracking?" The liquefied natural gas industry in British Columbia is being ramped up, with projects planned from Fort St. John to Kitimat to Squamish to Campbell River. Without a National or Provincial Energy Policy, and with our Oil & Gas Commission and other regulators overwhelmingly funded by industry, the question posed was "who is looking at the big picture? Our Provincial Government tells us fracking for LNG will be our economic saviour. Others say the environmental costs will be too high." A panel of experts discussed all aspects.

On February 27th 2015, Peninsula EcoVision hosted the film "The Wisdom to Survive: Climate Change, Capitalism and Community" in Sidney, B.C. Canada. This compelling film examined the scope and causes of the present ecological and societal malaise through the lenses of art, science, economics, and spirituality and suggested how we might help a better world emerge.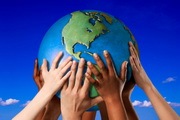 2) Uniting People Organizations, starting with Peoples of Faith, to Create Workable Solutions for Climate Change and Healing of Our Planet: A major initiative sponsored by Ecology International and Peninsula EcoVision is to bring climate change awareness and motivation to an audience that is receptive, vocal and eventually large enough to be responded to by politicians and world leaders. The approach is to contact major people organizations, e.g. doctors, dentists, veterinarians, professors, teachers, religious organizations and lawyers, with a similar climate change message and presentation format as was conducted at an Earth Day Climate Change Forum held by both organizations.

As a start, religious and spiritual organizations (Peoples of Faith) were approached first being as part of their faith they should have a commitment to the stewardship of the planet, i.e. God's creation. Many of these organizations also have smaller environmentally oriented groups such as Peninsula EcoVision that have sprung up within. The challenge is to get these individual groups and all of their congregations engaged and then help connect them with other religious organizations to build a united front of a large number of supporters who accept climate change as one of the major issues presently facing the planet, and who will put forward and demand socially responsible solutions to be acted upon by world leaders.

A local 'Demonstration Project' was next to answer two strategic questions: a) can different Faith Groups in a small community come together around the common cause of helping to heal our Planet; and b) if so – could the method be expanded to other communities? If successful, it was felt that such a local demonstration would be a powerful `catalyst` for empowering the top leaders of our Churches and other Faith Groups to become more engaged in finding solutions – and speaking out more forcibly to make them happen.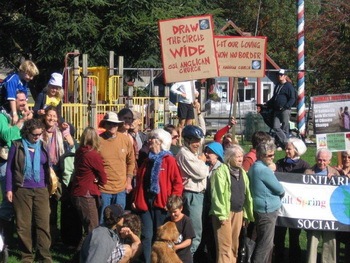 The chosen location for this demonstration project was the community of Salt Spring Island, just to the north of Victoria, B.C. This led to dialogue with Transition Salt Spring (TSS) who confirmed their interest in merging the demonstration project into a Salt Spring Island community wide '10/10/10' event on October 10th, Thanksgiving Sunday, 2010. The 10/10/10 event was planned to be a part of a worldwide action day for climate change awareness sponsored by www.350.org and to be celebrated in every corner of the globe.

The Demonstration Project was a resounding success with Anglicans, Unitarians, United Church, KAIROS, L.D.S, Buddhist, Quaker, Baha'i, Roman Catholic and Community Gospel Chapel members all participating, and many coming with banners. A number of service groups, such as the Salt Spring Island Conservancy, also attended. In light of this success and the experience gained, the next step is initiating a series of audio-visual presentations to Faith Groups in larger communities near tthe capital city of Victoria. Then, with building support, refinement of an inspirational multi-faith solutions-oriented dialogue and social networking on the internet, the message could hopefully be applied globally.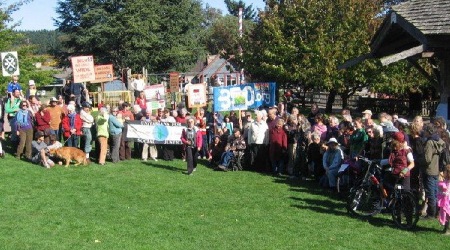 Ecology International and Peninsula EcoVision are presently organizing and scheduling these audio-visual Faith Groups presentations. The agenda includes: a) an up to date understanding of the current status of the Earth's climate, oceans and ecology; b) what Canada and other countries in the world are doing and not doing to address known causes and expected changes; and c) how the different faith groups can collaborate to identify and manifest workable global solutions.

The first of these next audio-visual events was a Climate Change Forum held at the University of Victoria. It was co-sponsored by Campus Urban Agriculture Collaborative, Ecology International, Peninsula EcoVision, the Victoria Unitarian Democracy Committee and KAIROS B.C. The Forum focus was 'How Will Global Warming Change Our Lives?' There were over 120 participants from all walks of life.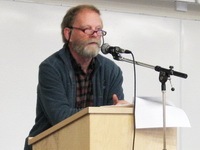 The Forum Chair, John McDonald from Peninsula EcoVision and Ecology International, set the context and format for the Forum. He noted: 'We believe the time has come for organizations and people of all descriptions to unite with a common mandate to lead the way into the 21st Century with socially acceptable environmental solutions that will help restore the health of the planet and the well being and livelihoods of all who inhabit It'

The format provided ample opportunity for participants to both learn from respected speakers about the Climate Change Issue and also time to ask their own personal questions. Four speakers made presentations from their varied perspectives on the Forum topic. Included were Elizabeth May, distinguished speaker on environmental issues, author of several books on Climate Change and Federal Green Party Leader, who spoke on climate change from the 'big picture' perspective. Mark Boysen, Sustainability Coordinator for the District of Saanich, explained the bold new Saanich Climate Action Plan. Miranda Cross of the Campus Urban Agriculture Collaborative shared how we can promote future food systems for our communities. Susan Draper from KAIROS B.C. discussed how people in general are trying to wrestle with this issue from a psycho-social perspective....and what this means to all of us at a much deeper, spiritual level.topic.

Next up was a Victoria Peoples Assembly on Climate Change: "Are you eager to talk to like minded people about grassroots ground up action on climate change?" The event was co-organized by the Council of Canadians, Victoria Chapter, and KAIROS. A world café style was used to promote citizen discussions on climate change and climate justice. All participants were able to connect with others in grassroots discussions, and talk about how to create change despite government, media and societal barriers. At the same time, a live internet connection was provided to enable discussions with delegates participating in the on-going UN Climate Change Conference in Cancun.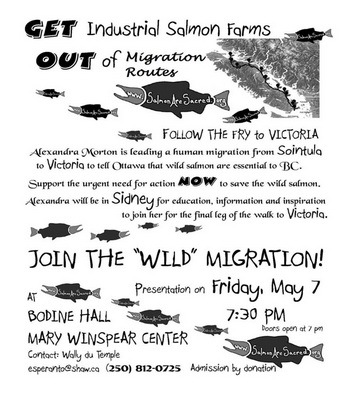 3) Preservation of Wild Salmon Initiatives with Alexandra Morton on Vancouver Island: Ecology International and Peninsula EcoVision teamed up to help support Alexandra Morton's "Get Out Migration" project to bring public awareness that wild salmon returning to British Columbia rivers need protection from diseases and sea lice emanating from open net pen salmon farms established along their migration routes. The 'Get Out Migration' was organized as a peoples' march that started on Earth Day (22nd April) at the Ahta River in the heart of the Broughton Archipelago and proceeded then from Sointula on Vancouver island through many communities. It ended with a Mother's Day blessing (9th May) at a massive demonstration of over 5,000 people at the legislature buildings in Victoria.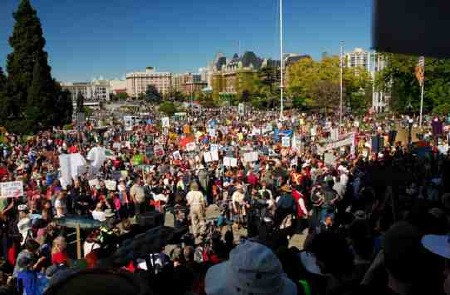 Public events were held in Sointula (22nd April), Port McNeill (23rd April), Nimpkish Lake (23rd April), Tofino (24th April), Quadra Island (28th April), Campbell River/Courtenay (29th April), Big Qualicum River/Parksville (30th April), Port Alberni (1st May), Nanaimo (2nd May), Saltspring Island (3rd/4th May), Duncan (5th May), Bamberton (6th May), Sidney (7th May) and Victoria (8th May).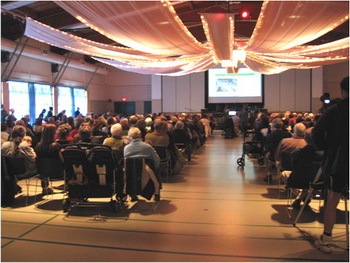 The last reception in Sidney before the final march into Victoria was sponsored by Peninsula EcoVision and Ecology International. It was very successful with over 500 people attending including many First Nations Chiefs and Elders who spoke in support of the Initiative. Ecology International and Eco-Vision's support for this Alexandra Morton initiative is still on-going as the Candian Government looks into reasons for the decline of sockeye salmon returns to the Fraser River. The impacts of salmon farming practices along the salmon migration routes is just one of several causes of decline being investigated.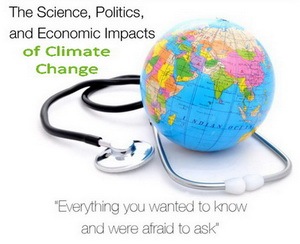 4) Earth Day Forums in Canada: In celebration of Earth Day (April 22) each year, Ecology International and Peninsula EcoVision sponsor special forums, workshops and presentations on environmental issues facing the planet. In 2012 it was a special film on the creation of the universe and man's part in it. In 2010, it was a Climate Change forum held at the Mary Winspear Centre in downtown Sidney, B.C. titled: "Everything you wanted to know and were afraid to ask about the Science, Politics and Business/Investment Aspects of Climate Change".

The focus is on key questions related to Climate Change: Why all the controversy and media hype? Is it something that I should be concerned about now or later? Will it affect me and the well being of my family? Who do I believe? How will it affect my retirement investments? What should I do?

Respected leaders from a wide range of perspectives have been invited to address these questions as well as take additional questions from the audiences. Included are: Elizabeth May, Leader of the Federal Green Party and member of Parliament; Andrew Weaver, member of the International Panel of Climate Change and professor at the School of Earth and Ocean Sciences, University of Victoria; and Frank Arnold, head of the Victoria-based Pinch Group who specialize in Socially Responsible Investing.