Ecology International is supporting demonstration and education projects in local communities that are focused on outlining and implementing practical solutions for a more sustainable world. Such projects are intended to raise public awareness and inspire peoples of all ages, cultural backgrounds, religious beliefs and political persuasions as to how to work together synergistically to regenerate damaged ecosystems at all levels, i.e. in our homes, neighborhoods, towns, cities, states, countries, continents and globally.

Following are brief descriptions of some of the first projects being undertaken in the United States: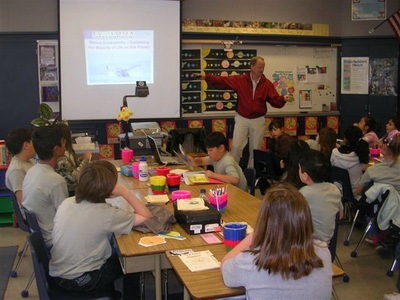 Instructional Sessions on the Status of World Ecosystems in Schools.
Ecology International is supporting schools by making scientists available to the schools for presentation and discussion about the status of the world's ecosystems, their sensitivity to man's activities, and ways in which the students can participate in global initiatives to help preserve and recreate sustainable ecosystems from those that have been destroyed or seriously impacted. An example is shown above where an ocean scientist from Canada is talking to a class of Grade 3 students at a school in North Hollywood about the status of the oceans and how they are making a difference by being members of a local school initiative called "Environmental Defenders" to reuse, recycle and renew.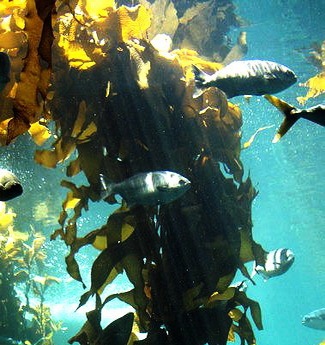 Innovative New Kelp Restoration Project – Southern California and Northern Baja. For centuries, vast kelp beds have flourished off the coasts of Southern California and the Baja Peninsula. Only during periodic incidents of warmer El Nino events were there short term kelp die-offs. In recent decades, many of these same kelp beds have been dramatically reduced or eliminated. Pollution and increases in purple sea urchins (the principal predators of kelp) are thought to be the key reasons.

Since 1996, Gordon Lehman, Clif Noland and another researcher Dave Meyer have been working with the Orange County Coast Keepers and the Algalita Marine Research Foundation to help restore some of these devastated kelp beds. Their initial restoration projects were successfully carried out at Little Corona Beach at Corona del Mar (photo below).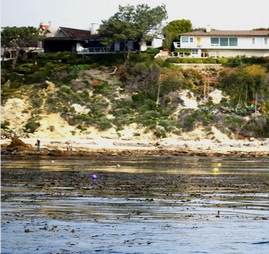 Mr. Lehman and Mr. Noland have now developed an exciting new "proprietary" kelp sporing technique that can generate new plants "on-site" rather than in a laboratory. This new process negates the significant costs of raising and transporting new kelp from the lab to the field and has been successfully applied at Pelican Point and Wheeler's Reef in Crystal Cove State Park, and at Deadman's Reef in Laguna Beach, California.

Ecology International sees the restoration of kelp beds as an essential part of revitalizing the marine ecology of many polluted and impacted coastlines around the world and is now committed to assist Mr. Lehman and Mr. Noland to secure the neccessary funding to continue their new kelp restoration projects in both California and Baja Mexico. In addition, Ecology International is researching the possible transport of a hardier, warmer water-resistant kelp (same species) from southern Baja to more northern waters where long standing kelp beds have been decimated by recent incidents of warmer waters and storm events.

Once proven in both Southern California and Northern Baja, it is anticipated that this new kelp culturing technique will be applicable world-wide helping to rebuild more sustainable kelp forests and produce healthier marine ecosystems off many coastlines.

Marine Biology and Environmental Technologies, L.L.C. is a newly registered California Company focused on ocean and environmental sciences. This new kelp production technology could help them sustainably feed the farmed animals in some of their aquaculture sites. Hence, they have offered to help EI by sponsoring some of these projects from a portion of their initial profits.